Katılım

4 Eyl 2009
Mesajlar

0
arg-fallbackName="CUPRA"/>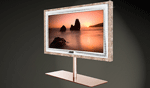 Most Expensive Television
PrestigeHD Supreme Rose Edition by Stuart Hughes
Price: $2.3 million*
More from Yahoo! Finance:
• Find a Great Deal on a Lavish Home
• You vs. Peers: A Money Comparison
• What to Avoid Buying in Bulk
See More Content Like This
Swiss luxury television maker PrestigeHD asked Stuart Hughes of Goldstriker International to design a spectacular piece for the company, says Hughes. So he took a 55-inch PrestigeHD television and covered it in 28 kilograms of 18-carat rose gold and 72 diamonds. Alligator skin was hand sewn into the bezel. This limited edition TV, introduced just this year, surpasses Hughes' £1 million television for PrestigeHD, which uses 22-carat yellow gold and 48 diamonds. PrestigeHD CEO Simon M. Troxler says the company is close to closing its first contract for the Supreme Rose Edition and "we are very confident that the limited edition of only three TVs will be sold out soon."
*Price converted from £1.5 million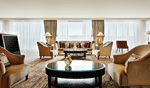 Most Expensive Hotel Room
Royal Penthouse Suite, Hotel President Wilson in Geneva
Price: $65,000 per night
This palatial suite, which occupies an entire floor of the hotel and measures 18,083 square feet, has 10 rooms and seven bathrooms. It was renovated in January 2009 to add a new private fitness area, according to a spokesperson.
Most Expensive Motorcycle
Dodge Tomahawk V10 Superbike
Price: $700,000
The Dodge Tomahawk, a 1,500-lb. motorcycle with four wheels, has a Dodge Viper's V10 engine and can go from zero to 60 mph in 2.5 seconds, according to Edmunds.com. The top speed is estimated to be more than 300 mph. The vehicle, which made its debut at the 2003 North American International Auto Show in Detroit, was reportedly priced at $550,000, but a Dodge spokesperson confirmed to Bloomberg Businessweek that two units were sold at an even higher $700,000.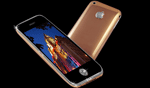 Most Expensive Cell Phone
iPhone 3GS Supreme Rose by Stuart Hughes
Price: $2.97 million*
Stuart Hughes—who also designed the most expensive television—made headlines in 2009 when he crafted a 22-carat gold iPhone studded with 53 diamonds for an unnamed Australian businessman for £1.92 million. More recently, he says, he was commissioned to make an even pricier version of the phone in 18-carat rose gold with hundreds of diamonds, including a single-cut, 7.1-carat diamond for the main navigation button.
*Price converted from £1.93 million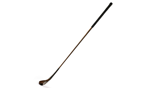 Most Expensive Golf Club
Long-Nose Putter Stamped "A.D.," attributed to Andrew Dickson
Price: $181,000
An "A.D." stamp on this circa 18th century, long-nose putter is attributed to Andrew Dickson, the oldest known clubmaker to mark his clubs. He is said to have served as a caddy to the Duke of York as a young boy, according to Sotheby's. This item was estimated to sell for $200,000 to $300,000 but fetched $181,000 in a Sotheby's auction in New York in 2007.

Most Expensive Car
1954-55 Mercedes-Benz W196
Price: $24 million
Think a brand-new $1.7 million Bugatti Veyron is expensive? Try the Mercedes-Benz W196, which won the Grand Prix in 1954 and 1955, and sold at auction in 1990 for a staggering $24 million. According to the U.K.'s Times Online Times Online, Mercedes donated the car to the National Motor Museum at Beaulieu in the 1980s, which later sold it for £1.5 million to finance a museum renovation. It was again sold in 1990 to a French industrialist for $24 million but changed hands once more to a German industrialist for less than half that sum.
Most Expensive House
Antilla
Price: $1 billion
According to a February report by Property Magazine, the most expensive house in the world, named Antilla (in picture above at left), is in downtown Mumbai, India, and will be the residence of Reliance Industries Chairman Mukesh Ambani. The 27-story, 570-foot-tall tower has a helipad, a health club, and a six-floor garage that can hold 168 cars. Each level has gardens. It will be serviced by a staff of 600 people. Some reports list the price of the house at $2 billion. The architecture and design firms working on this project, Perkins + Will and Hirsch Bedner Associates, declined comment.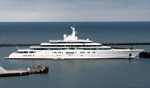 Most Expensive Yacht Eclipse Price: £1.2 billion This 560-foot-long yacht has two helipads, 11 guest cabins, two swimming pools, three launch boats, an aquarium, and a minisubmarine that can dive to 50 meters below the ocean surface, according to London's Daily Mail. The master bedroom and bridge have bulletproof glass, and the security system includes missile detection systems that warn of incoming rockets. The owner Roman Abramovich, a Russian billionaire who also owns Britain's Chelsea Football Club, reportedly fitted the yacht with a laser system that prevents paparazzi from taking photos. It was built by Blohm + Voss in Hamburg, Germany.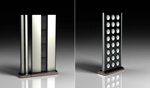 Most Expensive Speakers
Transmission Audio Ultimate System
Price: $2 million per pair
With a total of 12 units—four dipole subwoofers, two dipole mid-woofers, four dipole medium-frequency and high-frequency ribbon panels, and two dipole high-fidelity super ribbon panels—Transmission Audio's Ultimate speaker system is a hefty piece of equipment, spanning 37 feet and weighing 5 metric tons. All units are made from aircraft aluminum and have stands in polished red or black granite. The set was introduced in late 2009, and so far two pairs have been preordered, says Bo Bengtsson, president of Transmission Audio. None has yet been delivered, as the assembly time is about six months.
Most Expensive Ring
Chopard Blue Diamond Ring
Price: $16.26 million
The centerpiece of Chopard Blue Diamond Ring is a 9-carat blue diamond (in photo) with diamond shoulders. The 18-carat white gold band is paved with diamonds. It sold overseas in 2007 to a fancy color diamond collector, reportedly for $16,260,000, but a Chopard spokesperson says the estimated value of the ring today is $18,561,310.
Alıntıdır.